Hello again everyone, long time no see!
Remember my old 12"-scale ideas? Well with life intensifying on my end, what with university etc., it's been difficult to commit myself to bringing these plans to fruition - hence, don't expect to see me doing Warp or especially Booster anytime soon. However, having already made a start on Mira and Evil Buzz, this summer I'm aiming to complete them both and have them out of the way. I started with the easier of the two, Evil Buzz.
He's about 99% finished - I just need to clear up the paint around his joints (some has worn away slightly and needs touching up, some needs to come off) and file down the epoxy that fills the holes where his chest buttons used to be.
I didn't discard or paint the figure's jetpack since I thought it would be cool to have a reference to when he steals Buzz's pack in
The Lightyear Factor
. He has been gutted of electronics, but his flip-up communicator, pop-out wings and karate chop action all still function.
I won't go putting too many images into this thread since I hear the forum may be moving soon, but here are a few to tide you over...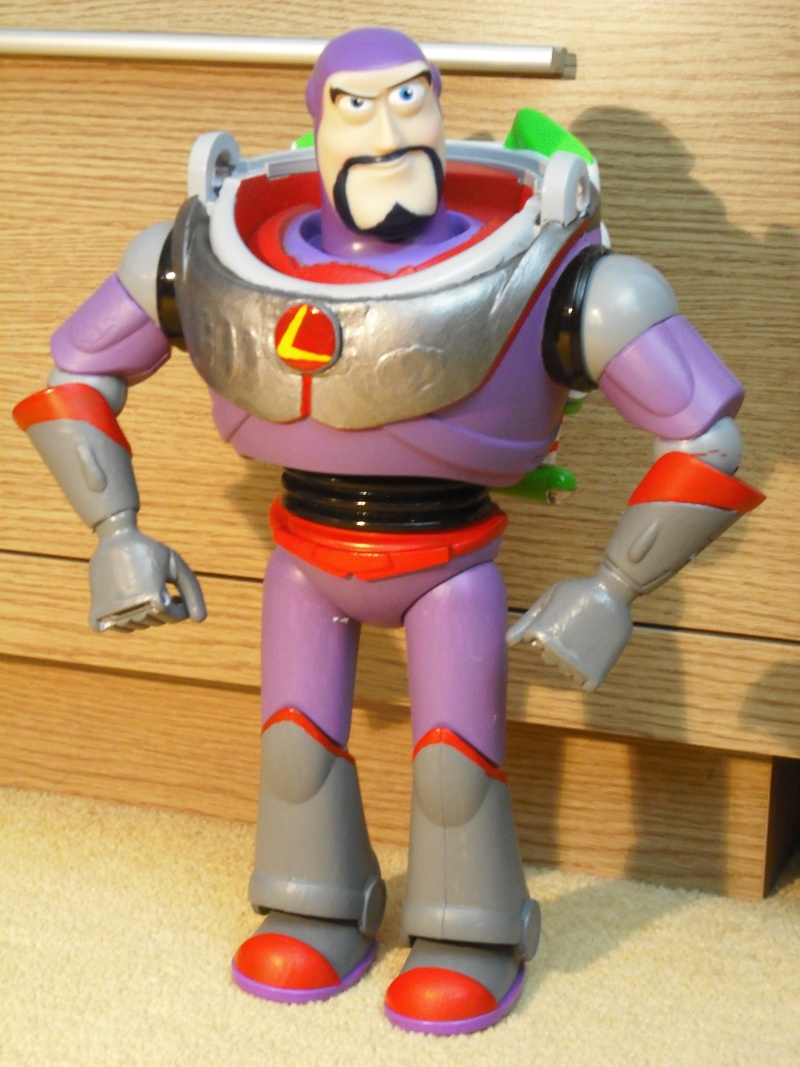 _________________
Have a nice solar cycle!

Olivus Prime


CORPORAL






Posts

: 203


Join date

: 2011-10-08


Age

: 26


Location

: Stationed in the Delta Quadrant of Sector 7



Oooh, this looks awesome, man. He looks so devious with all those colors on him and he just looks great in general. Well done. (:

_________________
"Do you know the legend of the Phoenix?...The Phoenix was a mythical bird that was consumed by fire, but always rose again from the ashes. Perhaps that's what the Phoenix represents-hope, which never dies." -Professor Charles Xavier, X-Men: The Animated Series

Storm Front....a BLoSC/X-Men crossover fanfic....NOW on Fanfiction.net!

Glory Days...the Academy Days of four certain Rangers, a BLoSC fanfic. NOW on Fanfiction.net!

*A Ty Parsec fan and proud of it!

Fox Storm


SENATOR






Posts

: 1741


Join date

: 2011-08-12


Age

: 31


Location

: Gamma Quadrant



Oh wow, that looks fantastic! The paintwork is especially great!
_________________
"If there's one thing I can't stand it's gambling! I'll lay you seven to one odds there'll be no more poker after tonight!" - XR
[03:35:11] @ Alexa : The bad thing about having Zurg on my desk is that he judges me when I flail in excitement. XD
I ship way too many couples.
It definitevly looks great ! Congrats
_________________

Linky439


CADET






Posts

: 31


Join date

: 2013-11-29


Age

: 26


Location

: France



---
Permissions in this forum:
You
cannot
reply to topics in this forum